Effective February 26, 2016:
Manitoba Horse Council is now accepting membership renewals and applications for its 2016 term! The 2016 Membership runs from now until December 31, 2016.
IMPORTANT - If you have a 2015/16 membership or held one in years prior, please RENEW your membership rather than purchasing a new one. If you don't remember your login name and/or password - just click on the RESET PASSWORD button displayed on the right hand side of the screen and follow the prompts. Thank you!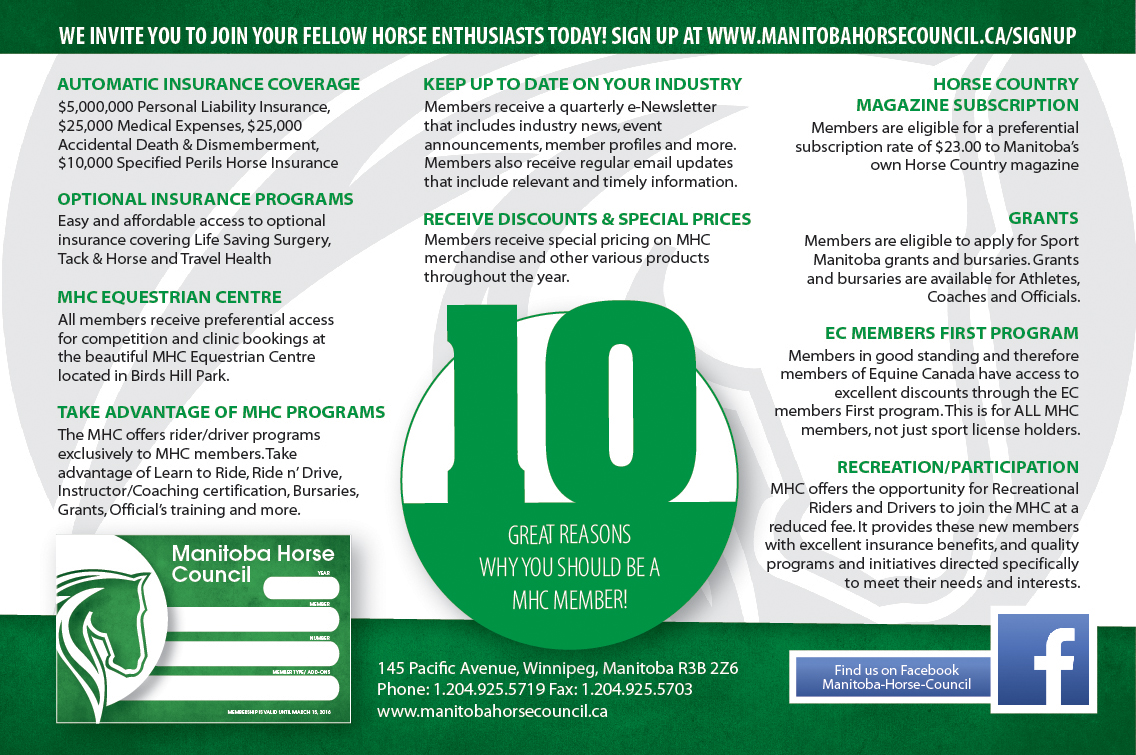 Experience the benefits of membership!
Horse Enthusiasts know that the Manitoba Horse Council adds value to their equestrian lifestyle.
That's because 2000+ horse enthusiasts are MHC members who reap the benefits of belonging. From services and information to benefits not found anywhere else, the MHC represents individual members and clubs from all sectors of the horse industry.
For professionals, amateurs, competitors and recreational enthusiasts of all ages and disciplines, the MHC is committed to horse welfare, advocacy and accessibility.
Every member receives industry leading insurance coverage and fantastic discounts. And only members are able to participate in MHC and Equine Canada programs, receive free monthly e-newsletters and enjoy insider updates on equine events and news.
We invite you to join your fellow horse enthusiasts today!
Why should I be a MHC Member?
To ensure all horse/pony owners, riders/drivers and other participants have proper third-party insurance coverage

To be an active participant in the development of safe sport in the province of Manitoba

To be part of a united equine voice

To be included in a group, which builds on the development of competitive sport and the legacy of sportsmanship

To support the advocacy of horse welfare

To support MHC programs and initiatives such as the Recreation portfolio and much more!

To participate in educational clinics, events and workshops offered exclusively to members

To receive the official MHC member e-newsletter (the most widely circulated equine publication in Manitoba)

To receive member only benefits, special discounts and exclusive offers thru MHC and Equine Canada
MHC encourages its membership to use the online system wherever possible. If you don't remember your User Name and/or Password for online renewals - please click on the Reset Button that appears on the right hand side of the screen and follow the prompts.
MHC 2016 Insurance Presentation MHC FAQ's
What MHC membership should I purchase?
Competitive Memberships:
If you are planning on competing at a competition this coming membership season you will be required to have a competitive MHC membership.
Recreation Memberships:
If you are not planning on competing this membership season, the MHC encourages you to purchase a MHC Recreation membership. For more details on the MHC Recreation Membership, benefits and programs please visit: /Recreation.
MHC recreation benefits summary
---
Apply or Renew Online
Used the MHC online membership system before?
Please login under Existing Members to the right using your User Name and Password.

If you've forgotten your Password, please use the Reset Password link on the right to reset your Password.

If you receive an error message regarding your User Name, please use the Other Login Help link on the right to re-create a User Name and Password.
First time using the MHC online membership system?
Current or previous MHC members
If you have been a MHC member in the past / are a current member that has not used the online membership system before:

Please create an initial User Name and Password by using the Other Login Help link on the right.

If it is stated that your record is not found, it likely means the email address you entered does not match the email address MHC has on file. To rectify this, please contact the MHC office.
Brand-new MHC members
If you are a brand-new MHC member:
Please use the Become a Member on the top right corner to create a new account.
---
Apply or Renew with Form
Download a Recreation or Competitive Membership paper application and submit to the MHC office complete with payment. The application and payment can be submitted via mail, email, or fax.

Membership can also be applied for or renewed via phone by contacting the MHC office.